Ansys Lumerical FDTD | Photonic Component Simulation
The industry standard for simulating nanophotonic components, procedures, and materials is Ansys Lumerical FDTD (Finite-Difference Time-Domain). 
Finite-Difference Time-Domain (FDTD)
Ansys Lumerical FDTD, employing the finite-difference time-domain method (also known as Yee's Method), offers best-in-class solver performance across a wide range of applications.
The integrated design environment offers advanced post-processing, optimization, and scripting capabilities, allowing you to concentrate on your design while leaving the rest to the software.
Ansys Lumerical FDTD Core Capabilities
Photonic Inverse Design
Automatically find the optimal geometries and designs for a specific design goal. Find counterintuitive geometries that enhance manufacturability, reduce area, and optimize performance.
Robust Post-Processing Analysis
Far-field projection, band structure analysis, development of the bidirectional scattering distribution function (BSDF), Q-factor analysis, and charge production rate are only a few of the robust post-processing techniques available.
Anisotropy and Nonlinearity
Simulate devices made from nonlinear or anisotropic materials that fluctuate spatially.   Select from a variety of gain, negative index, and nonlinear models. Leverage adaptable material plug-ins, and define new material models.
Multi-coefficient Models
Deploy multi-coefficient models to accurately simulate materials over a wide range of wavelengths. Source  sample data (API configurability) to automatically develop models, or create your own procedures.
3D CAD Framework
For both 2D and 3D models, FDTD's CAD environment and parameterizable simulation components enable quick model iterations for engineers.
Additional Ansys Lumerical Products
Lumerical software overview and core capabilities
Optical Waveguide & Coupler Solver
Overlap Analysis

Bend Loss Analysis
Helical Waveguides
2.5D varFDTD Solver
Anisotropic Materials
Advanced Conformal Mesh
Eigenmode Expansion Solver
Spatially Varying Temperature
Charge Density Profile Imports
Finite Difference Eigenmode Solver
Magneto-optical Waveguide Analysis
Optical Thin-Film Simulation
Plane-Wave Illumination
Capture Interference Effects
Capture Microactivity Effects
Optical Thin-Film Application
Accurate EM Simulation
Dipole/Dipole Off-Axis Illumination
Simulate Thin Film Multilayer Stacks
Macroscopic Human Perception Analysis
Rapid Photonics-Electronics Prototyping
Pixel EPDA through Speos Integration
Thick Layer Support ≥ Coherence Length
Photonic Integrated Circuit Simulator
Transient Block Analysis
Frequency Domain Analysis
GUI and Lumerical Scripting
Mixed Signal Representation
Travelling Wave Laser Model
Automatic Parameter Sweeps
Multi-Variant Statistical Analysis
Import Compact Libraries Models
Electronic-Photonic Co-Simulation
Transient Sample Model Simulator
Multimode and Multichannel Support
3D Charge Transport Solver
Scriptable Material Properties
Automatic Finite Element Meshing
Electrical/Thermal Material Models
Parameterizable Simulation Objects
Geometry-Linked Sources/Monitors
Comprehensive SoC Material Models
Small Signal Alternating Current analysis'
Isothermal, Non-Isothermal, Electro-Thermal
Joule (J) Heating Solver
Flexible Materials Database
Automatic Mesh Refinement
Finite-Element Meshing Automation
Finite-Element Heat Transport Solver
Steady-State and Transient Simulation
Rapid Transition from 2D & 3D Solvers
Self-Consistent Heat/Charge Transport
Conductive, Convection & Radiative Effects
3D Electromagnetic (EM) Simulator
Highly Interoperable
Object-Conformal Mesh
Material-Adaptive Mesh
Gaussian Vector Beams
Automation and Scripting
Bloch Boundary Conditions
Automatic Mesh Refinement
High Order Mesh Polynomials
Transitional 2D & 3D Modeling
Far-field and Grating Projections
Finite Element Waveguide Simulation
Frequency Domain Reflectometry
Higher-Order Polynomial Functions
Parallel Curved Meshing Adaptivity
Electro-Optic Modeling Simulation
Thermo-Optic Modeling Simulation
Spatially Varying Index Perturbations
Determine Effective Refractive Index'
Fourier analysis for Signal Processing
Material-adaptive Mesh Embedment
Waveguide Thermal Sensitivity Tuning
Quantum Well Gain Simulation
Wavefunction Calculation
Band Diagram Calculation
Physics-Based Photonics Solver
Quantum Mechanical Analysis
Conduction Electron Scattering
Gain and Spontaneous Emission
Characterization of Band Structures
Multi-Quantum Well Stacks Simulator
Establish Controllable Quantum States
Mesoscopic Superconductivity Analysis
Electronics Photonics Design Automation (EPDA)
Lumerical MODE

Lumerical CHARGE
Lumerical HEAT
Lumerical DGTD
Lumerical STACK
Lumerical FEEM
Lumerical MQW
Lumerical VERILOG-A
Lumerical INTERCONNECT
Lumerical CML COMPILER
Ansys Lumerical FDTD In-Action
Supporting Ansys Lumerical FDTD (Finite-Difference Time-Domain) video materials showcasing  functionality, and practical industrial application.
Analysis Mode and Carrier Density Distribution in Ansys Lumerical FDTD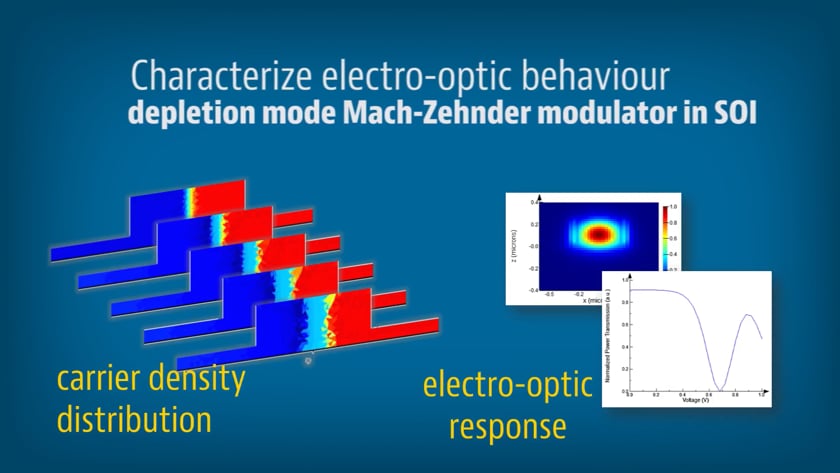 Eigenmode Expansion & Propagation in Ansys Lumerical FDTD & FEEM