Ansys Horloge FX | Logiciel d'analyse de gigue d'horloge SoC sensible à la variabilité
Ansys Horloge FX te permet de calculer la gigue d'horloge avec la variation sur un plein SoC, et de contrôler les effets de la variation de bruit d'alimentation.
Real-Time VD and Variation-Aware Clock Jitter Simulations
Clock FX's unique cell modeling delivers SPICE accuracy timing for any voltage or variation condition with a single library. Clock FX has a fully threaded and distributed architecture, with the ability to scale to thousands of CPUs.
Electro-Thermal Design of Semiconductors & Power Converters for EPS Architecture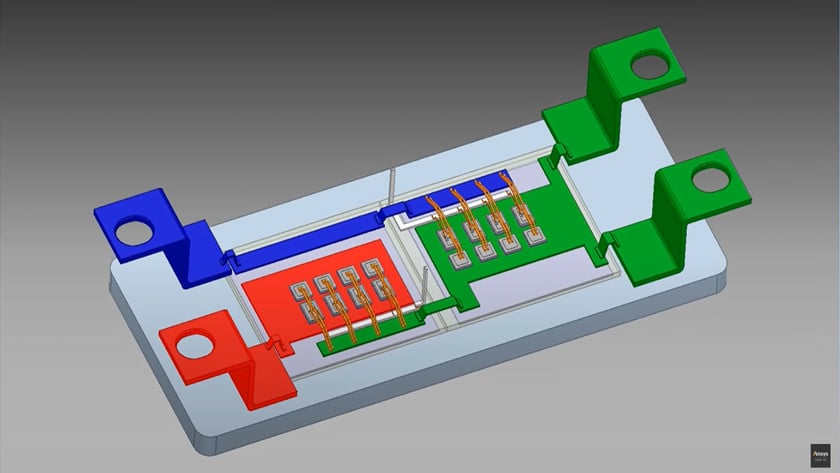 Automatically Identify and Simulate all Clock Paths in a Design
---
✔ Clock Mesh Handling
✔ DvD Sign-off Flow
✔ Native DvD Handoff
✔ Clock Mesh Handling
✔ Clock Jitter Analysis
✔ Simulate Entire Clock
SoC incorporates Multiple Processes, Voltages, Temperature Corners and Scenarios.

Clock FX (SoC Software) mines the dynamic voltage drop on the clock network produced by RedHawk-SC to calculate clock jitter with SPICE-level accuracy. In addition, the software also accounts for accurate multi-voltage analysis and simulates the delay impact of supply variation on the clock paths.
Clock FX (SoC Software) handles transistor level effects such as voltage drop and ground bounce separately.
This enables accurate timing at ultralow voltages where margins are razor thin and variability is severe.
Clock FX (SoC Software) automatically identifies and simulates all the clock paths in the design using standard cell models or transistor-level SPICE models.
Its full waveform propagation provides the accuracy needed to get reliable results at ultralow voltage and advanced processes.
Clock FX (SoC Software) is tightly integrated with the Ansys sign-off power analysis tool RedHawk-SC to obtain the dynamic voltage drop for simulation.
With the duo synchronized, the database generates a rich set of jitter reports covering various jitter types.
Clock FX (SoC Software) is threaded and distributed, dramatically reducing turnaround time and memory requirements, compared to Monte Carlo SPICE.
To study and compare the timing jitter (TJ) characteristics, our simulations deploy four core experimental schemes including hybrid mode-locking (HML), ML subject to opto-electrical feedback (OE FB), ML subject to all-optic feedback (AO FB), and ML subject to optical pulse train injection (OPTI).
These simulation parameters (if selected) are used to emphasize the role of the timing interaction of the pulses of master and slave MLL and to distinguish from continuous-wave injection.
Clock FX (SoC Software) leverages the SPICE transistor models and full waveform propagation to provide the accuracy needed to get reliable results at ultra-low voltage for advanced processes. Miller-capacitance and other effects are handled correctly, with no shortcuts.
Core database including (but not limited to):
Power supplies
Battery, Cell, Ground, Voltage Rail, Zero Volt Rail, Variable Input Voltage, DC Voltage Source, AC Voltage Source, Current Source, Fuse, Voltage Regulator
Input components
Push-to-Make switch, Push-to-Break switch, SPST switch, DPDT switch, Variable Resistor, Potentiometer, LDR, Thermistor (300R to 100K at 25°C), Phototransistor, Opto-Isolator, Crystal Oscillator (32.768KHz to 24.576MHz), SPDT switch, and DPST switch.
Passive components
Resistors, Resistor Packs, SIL resistors, Capacitor, Electrolytic Capacitor, Inductor, Transformer (Centre-tapped), Variable Capacitor and Variable Inductors.
Discrete semiconductors
Diode, Bridge Rectifier, NPN Transistor, PNP Transistor, N-Channel MOSFET, P-Channel MOSFET, N-Channel JFET, P-Channel JFET, Zener Diode, and Thyristor (SCR).
Logic gates
Clock, Input, Output, NOT (Inverter), AND, OR, NAND, NOR, XOR, XNOR, Schmitt Inverter, Schmitt NAND.  As well as Connectors including, Rail, Terminals, SILs, and DILs.
Integrated circuits (ICs)
4000B series, 74LS series, 74HC series, 555 timer, Dot/Bar Display Driver, L293D half-H driver, ULN2003 and ULN2803 darlington array drivers, and Operational Amplifiers.
Output components
Bulb, Lamp, Buzzer, Loudspeaker, Motor, SPDT Relay, DPDT Relay, Flashing LED, Bi-Colour LED, Tri-Colour LED, 7-Segment Display, Dual 7-Segment Display, 16-Segment Display, Bargraph Display, 5×7 Matrix Display, Solenoid, and Core LEDs.